An Overview of Peace Management and Conflict Resolution
COURSE OVERVIEW
The peace management and conflict resolution course is an interdisciplinary course whose aim is to introduce learners from a variety of backgrounds to the analysis of conflict, violence, and peace. The specific purpose of the course is to help you identify and use tools that can guide you in working towards a more sustainable and durable peace by strengthening and solidifying the existing peace in your community.
The area of Peace Management and Conflict Resolution offers an opportunity to provide foundational information and resources to a wide sector of the African population. Although designed for individual learning, the program will be of particular interest to community leaders, educators, and non-governmental and governmental organizations.
The course consists of four modules. Module one introduces you to some of the key concepts associated with the work of peacebuilding and conflict resolution. Key concepts explored in this module include conflict, violence, peace, and negative and positive peace.
Module two explores some of the practical approaches that are used in understanding a conflict. Any effective action directed towards dealing with a conflict depends on systematic and insightful analysis of the conflict situation. This module therefore discusses the meaning of conflict analysis and explores key components including profile, causes, actors and dynamics of a conflict.
Module three introduces you to the concepts of conflict resolution and transformation and management and clarifies the conceptual differences among these terms. The module also identifies methods and strategies used in conflict resolution and transformation and in particular explores the mediation and negotiation processes as key tools of conflict resolution and management.
Lastly, module four of this course explores the meaning of peacebuilding and management and discusses the concept of conflict sensitivity, and why this is an important principle of the process of peacebuilding and management. Later in the module, the various strategies that are useful for peacebuilding and management and supporting structures for a durable peace are discussed. In particular, the issues of governance and peoples' participation and inclusion in the peace process are some of the key approaches that can bring about sustainable peace are explored.
The modules each consist of three units. Each unit has an outline including the expected learning goals. As you go through each unit, you will come across questions that should help you in reflecting on the content. At the end of each unit, a summary is provided to help you synthesize what you have covered and reinforce your learning.
Self-assessment instruments, specific reflection exercises, and skill–building exercises that include questions and helpful ways to communicate effectively have been provided. The exercises are structured with the intention of being easy to follow. Where appropriate, we have provided suggested responses to give you an opportunity to measure your progress. It is important that you carry out the activities. References for further reading are provided at the end of each unit.
COURSE GOALS
Upon completion of this course, you should be able to:

1. Explain and discuss the concept of conflict and different types of conflicts.
2. Trace and explain some of the causes of conflict such as power, identity, culture, and resources among others.
3. Define and explain the concepts of conflict resolution, conflict transformation, and conflict management.
4. Identify and describe various types of tools commonly used in conflict analysis.
5. Identify and discuss three dimensions of peacebuilding and management.
6. Explain the importance of using gender and youth lenses in peacebuilding and conflict resolution
The learners will be expected to dedicate 4 to 6 hours a week on this MOOC.
Instructor Profiles and Pictures

Lee-Anne Ragan, M.Ed., B.S.W., is President of Rock.Paper.Scissors Inc., an award winning training and entertainment company. Her learning and development work focuses on such areas as using social media for training purposes, intercultural issues, training of trainers and conflict resolution. Fascinated with issues of worldview and perspective, she created Life Lenses™ an interactive online and in-person assessment. Over the past 25 years she has served more than 20,000 participants in and from more than 80 countries with her lively and engaging educational programs and workshops for the not-for-profit, community-based, and corporate sectors. Regardless of which subject matter expert hat she's wearing, Lee-Anne's aim is to facilitate participant's learning, laughing and leading. Four core values that underscore her work are innovation and creativity, the strategic use of humour, social responsibility and diversity. Original and adaptable, she shares content widely, whether it be through newsletters, her Rock.Paper.Scissors Inc. blog or her Life Lenses™ blog. Much to her husband and children's dismay she firmly believes every moment is a teachable moment. A proud Canadian, she currently calls Kenya home where she frequently consults for the United Nations. Lee-Anne promises to censure any group groans (silly or embarrassing activities) from her work.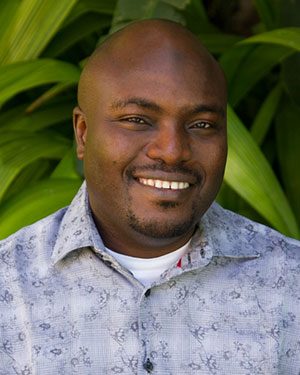 Gbemisola Animasawun, B.A (Lag), M.A & PhD (Peace & Conflict Studies Ibadan) (aganimasawun@gmail.com), teaches at the Centre for Peace & Strategic Studies University of Ilorin, a 2014 grantee of the Social Science Research Council (SSRC) African Peace-Building Network (APN) Residential Post-Doctoral Fellowship and 2014 Fellow of Kofi Annan International Peace-Keeping Centre (KAIPTC) Ghana and the Harvard University in the Department of African-American & African Studies. Gbemisola has completed researches funded by reputable institutions like the SSRC, Tertiary Education Development Trust Fund of Nigeria (TETFUND) and the Institute for French Research in Africa (IFRA-Nigeria). His researches revolve around issues of peace; conflict; security; autochthony & citizenship; inter-faith relations; radical Islamism & neopatrimonialism. He has published in peer-reviewed journals such as the African Security Review, Canadian Journal of Peace & Conflict Studies, African Conflict & Peace-Building Review (ACPR) and chapters in edited books. He also serves as consultant and facilitator of trainings to local and international institutions like the UNDP-Nigeria, the Institute for Peace & Conflict Resolution (IPCR) Nigeria, the African Virtual University of Kenya and the National Open University of Nigeria (NOUN) on peace, conflict & security.
AVU is the copyright holder license of the module hereby presented under a Creative Commons-Attribution-Share Alike (CC-BY-SA) license agreement.